Ceremonies
A Ceremony that reflects your beliefs, your story and that speaks to your Heart and Soul.
Spiritual
Religious/Non-religious
Interfaith
Same-Sex Marriages
Renaissance
Vow Renewals
Anniversaries
Wine Ceremonies, Handfasting, Unity Candle, Rose Ceremony, Rock Ceremony, Blended Family Ceremonies,
and others.
I invite you to watch this wedding ceremony video where I had the honor of performing the ceremony.
Wonderful Feedback from Wonderful People…
Inspiring! We absolutely loved Rev Deb, she made everything so easy. Our guests were blown away. Her words were inspiring and her delivery was amazing.
– April C

We met Rev. Deborah Hoch through our venue and are so glad we had her as our officiant! She was so friendly to work with and quick to answer our calls and any questions we had. We took bits and pieces from a few of her scripts that she sent us to look over and she was able to put them together in a sweet cohesive ceremony that was perfect. Thank you Rev. for being a part of our day!
– Shawna S.

Deborah was very kind and truly amazing! Due to Covid things got to be stressful but thankfully Deb was so comforting and helped put me at ease by being so positive and calm while speaking with me. She made sure she talked me through everything I could except for the day of the wedding and she was amazing with making sure our two kids were apart of the wedding as well! She did a lovely job with the ceremony and we honestly couldn't have chosen a better person than her to be apart of our very special day!
– Lynsey

We just can't thank you enough for making our day so special. Family and friends have complimented on what a perfect and personal ceremony you had performed. Thanks again.
-Mark and Elizabeth

After meeting with you to pick out our vows we knew we had picked the right person to officiate our wedding. It was beautiful and filled the air with love.
– Mark and Joanne

You were referred to us to officiate our ceremony and once we both met with you, we had to look no further! You offered some fantastic readings and ideas for vows, but at the same time also allowed our wedding ceremony to be. People are STILL talking about how wonderful our ceremony was and we have you to thank for helping make our day a lifetime memory.
– Dale and Sandy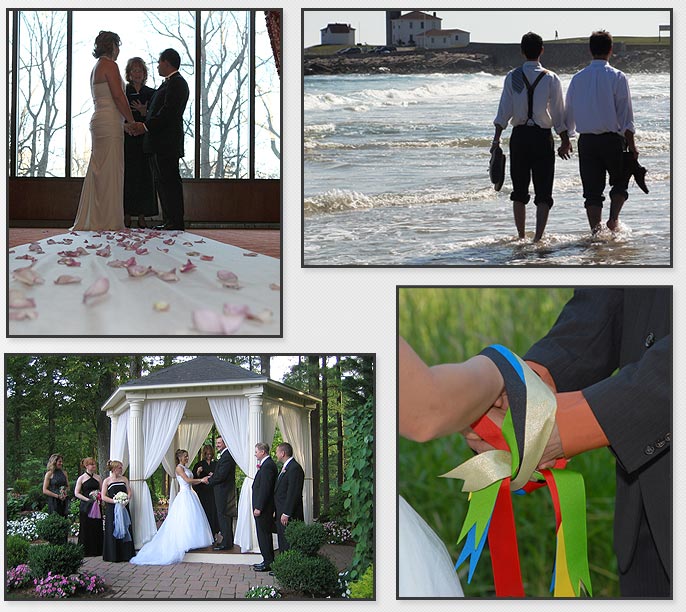 We would like to thank you for preparing such a beautiful and appropriate ceremony. The unity children was a huge hit with all. Everyone is still talking about it. Thank you.
– Brian and Roberta
We just wanted to thank you very much for your services at our wedding on June 27th.It was a great day, everything worked out well, and we wanted to thank you for everything.
– Alyssa and Tim
Thank you so much for helping to make our wedding ceremony perfect! We loved every moment of it, and we couldn't have done it without all your good advice and help. We received so many compliments about how nice the ceremony was.
– Ronnie and Alicia
We just can't thank you enough on how much this day meant to us. Now we can look back on our memory as a treasured one that we willnever forget. Now you have made our dream become a reality. Thankyou.
– Anthony and Miledys
Dear Rev Hoch, I just wanted to tell you what a moving ceremony you performed. Everyone raved about you and how you handled not only the ceremony, but the photography as well. I will highly recommend you to anyone I know who needs a caring , compassionate Justice of the Peace/Clergy to perform a ceremony. You were wonderful.
– Tina F