Interfaith Reverend Deborah Hoch
Your ceremony is a celebration of the joining of two hearts ready to make a journey together into the adventure called marriage. This is not only a joyous occasion for those present, but a step into making a Lifetime Memory.
Honorable Deborah A. Hoch is an experienced Justice of the Peace and ordained, Interfaith Minister who will perform your ceremony with care, professionalism, and grace making your day one of the most cherished and memorable occasions. She will work with you to customize your vows creating your wedding ceremony showing the love and honor you feel for one another. The words that are spoken will be filled with a truth that will deepen with the passing years. The meaning of the vows you share with one another will deepen as well as you discover the endless possibilities of your new life together.
Testimony from Happy Couples
My brother and his now wife hired Rev. Deborah Hoch to perform their ceremony last year, they sure made the right decision! Rev. Hoch was thoughtful, professional and engaging yet personable throughout the entire ceremony. She spoke clearly yet gently and you can absolutely tell she loves her line of work and her couples. She personalized the ceremony specifically for my brother and his wife, you could tell it wasn't a cookie cutter, generic speech. She was so genuine, even funny at times that it made the wedding ceremony so much more enjoyable and personable than other weddings I have attended. My brother and his wife were so happy with their big day and working with Rev. Hoch was so friendly, easy and responsive. If you are looking for a wonderful officiant for your special day, then look no further. HIGHLY HIGHLY Recommend!
-Briel L D.
Deborah, you were amazing! You were flexible and easy to work with and gave us a lot of great options for ceremonies. You really cared about personalizing our ceremony and just really cared about us! We got so many compliments from our guests and a lot of people wanted to know where we found such a wonderful person.
- Megan and Missy
I invite you to watch this wedding video where I had the honor being part of the ceremony.
Call Deborah A. Hoch at 508-472-6265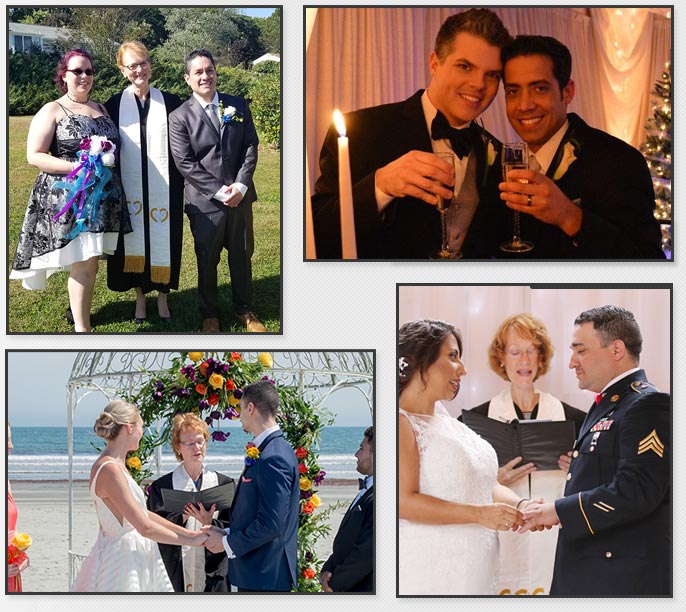 Best choice we could've made!
Deborah Not only made sure we always felt comfortable but really went above and beyond. Both my wife and I are extremely happy we could find her and have her for our special day!
Definitely recommend her to anyone and everyone!
-Justin T. , married on 06/11/2022
A Wedding Day Review
Rev Deb was recommended to us by our venue (Wannamoisset Country Club) and we are so glad we chose her to do our wedding ceremony. She was very transparent, thorough, and respectful of our wishes. She was very easy to communicate with and was just a joy to be around on our wedding day. Cannot recommend her enough!
- Courtney G., married on 09/24/2022
Absolutely Fantastic
Rev Hoch you were absolutely fantastic. Our guests couldn't stop talking about how professional you were and what a touching heart to heart ceremony you gave. You made things so easy throughout the process and answered every question I had, even helping me through some overwhelming planning moments. Thank you for making our dream ceremony come true.
- Kyle A. , married on 06/26/2022